Undoubtedly "largest stadium" lists have been done to death by all and sundry at this point, however it's Monday and we needed something "easy" to kick-start the working week. So in ascending order, the 15 largest stadiums in club football today are…
15. Olimpiyskiy National Sports Complex – 70,050
Home to the Ukrainian National team, Olimpiyskiy National Sports Complex first opened way back in 1923 but was entirely renovated for Euro 2012. Whilst Dynamo Kyiv use it to host their biggest matches such as Champions League, it isn't actually regarded as their stadium so to speak.
14. International Stadium Yokohama – 72,327
International Stadium Yokohama was also constructed for a major tournament, however in this case the 2002 World Cup. Equipped with a running track, and widely touted as one of the main venues for the 2020 Summer Olympics, the resident side, Yokohama F. Marinos, are one of the most famous teams in Japan.
13. Stadio Olimpico – 72,698
Regarded more as a club stadium as The Azzuri tend to spread their games out around the country, Stadio Olimpico is currently shared by both AS Roma (Curva Sud) and SS Lazio (Curva Nord). This will change in a few years time however with the creation of Stadio Della Roma.
12. Olympiastadion – 74,064
Originally known for the infamous Olympics of 1936, Berlin's Olympiastadion today is more famous for the 2006 World Cup, the 2015 Champions League final and for being home to one of the most under-performing clubs in Europe – Hertha Berlin!
11. Old Trafford – 75,731
The Theatre of Dreams's expansion in the 1990s and early 2000s coincided with Manchester United's period of domination in England. Managed by Sir Alex Ferguson, Old Trafford became a fortress, and today it remains one of the greatest European stadiums to date.
10. Luzhniki Stadium – 78,360
Another multi-purpose stadium which has its origins in the early 20th century, Luzhniki Stadium has been home to the Russian National team, and is set to host the final of the 2018 World Cup. Not strictly a "club stadium", it has in the past been used by both CSKA and Spartak Moscow.
9. Maracanã Stadium – 78,838
Along with England's Wembley Stadium, which is regarded by some as the spiritual home of football, Estádio do Maracanã has been used by all the major teams in Rio de Janeiro including Flamengo, Fluminense, Botafogo and Vasco da Gama.
8. Stade 5 Juillet 1962 – 80,000
Home to both USM, and MC Alger, Algeria's National Stadium hosted the final of the 1990 African Cup of Nationals which Algeria won 1 nil against Nigeria.
7. San Siro – 80,018
Set to host the 2016 Champions League Final, the San Siro may well be a little rough around the edges, however inside it is almost the perfect football stadium. Rectangular in shape, for years it offered some of the best views in Italy, as well as the best football courtesy of both AC Milan and Internazionale.
6. Estadio Monumental "U" – 80,093
Belonging to Club Universitario de Deportes, Estadio Monumental "U" is the largest stadium in South America. Used to host domestic matches the Peruvian national team actually plays at Estadio Nacional in Lima.
5. Westfalenstadion – 80,667
Known now as Signal Iduna Park due to sponsorship reasons, Borussia Dortmund's Westfalenstadion is often said to be home to the finest matchday atmosphere in Europe. Famous for the Südtribüne which is the largest single-tiered stand in the World, it alone is capable of accommodating 24,454 fans which is larger than most stadiums!
4. Santiago Bernabéu – 85,454
Very similar to Old Trafford in its development, Real Madrid's Santiago Bernabeu dates back to the first half of the 20th century, and has developed through a series of expansions over the years. It has hosted no less than four Champions League finals including most recently in 2010.
3. FNB Stadium – 94,736
Constructed for the 2010 World Cup in South Africa, First National Bank Stadium is the largest ground in Africa, and was a natural choice to the host the final. Known as The Calabash, due to its resemblance to the African Pot, it is now used on a more regular basis by Kaizer Chiefs F.C.
2. Estadio Azteca – 95,500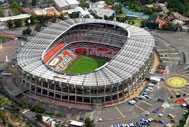 Recognised as the joint home of Club América and the Mexican National Team, Estadio Azteca is the first stadium to have hosted two World Cup finals ahead of the Maracana. It is perhaps most famous in England for providing the backdrop Maradona's "Hand of God" goal in the 1986 World Cup quarter final.
1. Camp Nou – 99,786
And last but not least we have FC Barcelona's legendary Nou Camp . Long regarded as one of the most iconic club stadiums in world football today, the fact that it is also the largest is merely coincidental. The continued success enjoyed by Barca such as theTreble during the 2015 season ensures that the Nou Camp is synonymous with glory, further cementing it in the minds of young football fans around the world.
[no_toc]