Estadio El Sadar formerly known as Reyno de Navarra between 2005-2011 is the home stadium of CA Osasuna who are based in Pamplona, Navarre. Originally built in 1967, the ground holds 19,553 spectators and has undergone renovations in 1989 and 2003.
Table of Contents
Stadium Guide by Football Tripper
Seating Plan
Below is a seating plan of Osasuna's Estadio El Sadar: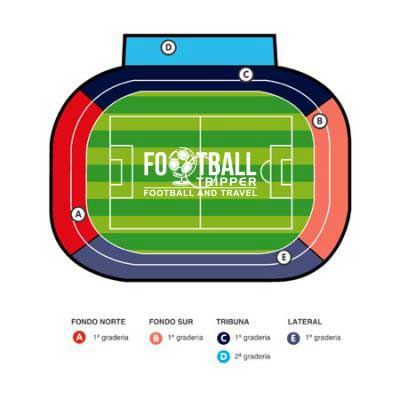 Stand Photos
Estadio El Sadar is comprised of four stands: North, East, South and West.
Click the thumbnails above to enlarge an image of each stand and to read a more detailed description of each part of the stadium.
Matchday Experience
Club Shop
According to Osasuna official website there are two official stores located through Pamplona, with the first opening on May 29th 1999 at the back of the stadium.
Estadio el Sadar
Address: c / Sadar, s / n., 31006 Pamplona
Phone: 948 24 74 97
Opening Times: Monday: 16:30 to 20:00. Tuesday to Saturday: 10:00 to 13:30 and 16:30 to 20:00 h. Party Sunday 12:00 h. until game time.
Burlada
Address: c / Ronda Sales, 8, 31600 Burlada
Phone: 948 13 February 96
Opening Times:  Monday to Friday: 10:00 h. to 13:30 h. and 17:00 h. 20:00 h. Saturday 10:00 h. to 14:00 h.
For more information you can always email the club [email protected] or visit the official online store, and remember that official members are entitled to a 10% discount…not that it will much use to you as a tourist!
You can also buy Osasuna Merchandise online here.
Stadium Tours
Currently there is no information available for El Sadar stadium tours but if we find out any more information, we'll be sure to update this section.
Visiting the Stadium - Travel
Stadium Map
Driving
Impossible to give catch all directions, with the cloest thing being giving you Estadio El Sadar's address for the Satnav which is: Calle Sadar s/n, 31006 Pamplona.
Airports and Flying
Pamplona has a small domestic airport (Pamplona-Noain) which is connected to the rest of Spain (Barcelona, Madrid etc) via Iberia airline, with the closet International  airport unfortunately being either Bilbao (156 km), Zaragoza (170 km), or even Biarritz in France (115 km). Car rental advised if making the journey!