Ruhrstadion or rewirpowerSTADION for sponsorship reasons, is a purpose built football stadium located in the West German city of Bochum. Renovated in 1997 with a current capacity of 29,299 the ground is home to VfL Bochum who compete in the second Bundesliga.
Table of Contents
Stadium Guide by Football Tripper
History
Ruhrstadion first opened in 1921 after the conclusion of World War One, however the site on which the stadium sits had been used to host football matches of the local sports club as far back as 1911. Situated within a meadow, the plot of land was rented from a local farmer, and Bochum constructed a rudimentary stadium for the first ever friendly against Vfb Hamm on 8th October 1911 which was attended by 500 fans.
Vfl Bochum's stadium peaked with a capacity of 50,000 in the post-war period, however it has decreased more or less with every subsequent renovation in reaching the current capacity of 29,299. The stadium was completely rebuilt over a three year period between March 1976 and July 1979 to give it its current four sided form, however for legal reasons it was classified officially as an expansion.
Each stand was demolished and rebuilt individually in order to minimise disruption, and the new Ruhrstadion officially re-opened with a friendly against SG Wattenscheid 09 on 21st July 1979. At the time it was one of Germany's Premier football stadiums, and subsequently hosted a qualification match of the 1982 World Cup against Finland, as well as a warm-up match for the tournament against Yugoslavia.
At the start of the 2006/2007 season Vfl Bochum announced that Ruhrstadion would become "rewirpowerSTADION" after the naming rights were sold to Stadtwerke Bocum on a five year basis. After it expired, the deal was extended for another five years until 2016, although the decision hasn't been popular with some sections of Vfl Bochum's support. Some fans alternatively refer to it as Schmuckkästchen (jewellery case) and anne Castroper (the Castroper).
To date the highest level of club football played at Ruhstadion has undoubtedly been matches of the UEFA Cup. Unable to reach the group stages during the 1996/1997 season, Bochum defeated Trabzonspor and Club Brugge but failed to overcome Ajax in the final play-off. In December 1992, Ruhrstadion was also used as a back-up venue for a Champions League game between CSKA Moscow and Glasgow Rangers due to adverse weather conditions in Russia.
Seating Plan
Matchday Experience
Club Shop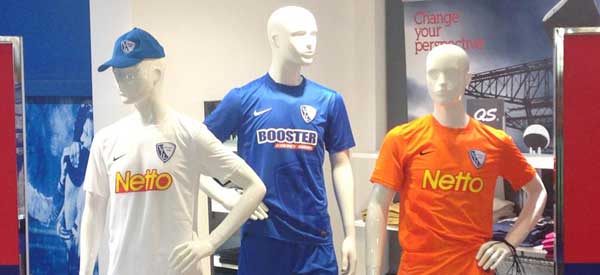 Location