Stade François Coty is the smallest stadium in Ligue 1 with a capacity of just 10,660 and serves as the home ground for AC Ajaccio who are based on the small island of Corsica towards the south of France. Informally, fans call the venue Stade Timizzilo and it has undergone several renovations since 2007 to reflect the ascension up the leagues of French football.
Table of Contents
Stadium Guide by Football Tripper
History
Stade François Coty first opened on the 1st of December 1969 with the inaugural match held against Ajaccio's great Corsican rivals, SC Bastia. Initially known as Sports Park ACA, the stadium was was later renamed in honour of former Mayor of Ajaccio, François Coty (1874 – 1934). As the former Perfume Businessman had associations with with Solidarité Française, a far right political group, some fans choose to refer to the ground instead as Stade de Timizzolo instead which is derived from the name of the local area.
To date the inaugural Corsican Derby of the newly opened Stade François Coty retains the record for the stadium's largest attendance. Over 15,000 supporters saw Ajaccio defeat their rivals Bastia in emphatic fashion with a 4-0 victory. As a 2002 renovation brought the capacity down to 10,660, it appears as if the record is unlikely to be beaten in the foreseeable future.
In order to fully comply with Ligue 1 stadium regulations, Stade Stade Francois Coty underwent €9 million euros worth of renovations over a five year period between May 2009 and December 2012. As well as the expansion of the ground to 13,500, all sections of the ground were expected to become fully covered via the addition of a roof.
Whilst the finished expansion plan deviated slightly for the original version with the installation of 1,800 temporary seats behind the vacant goal-end, fans couldn't really complain. AC Ajaccio's stadium almost fell into a state of dereliction in the late 1980s and early 1990s, such renovation work was long overdue for the Island dwellers.
As for the future of Stade François Coty there is talk of Ajaccio moving to a brand new stadium dubbed "Stade de Michel Moretti". Fans shouldn't however hold their breath as construction work was originally scheduled to take place in 2015 but is yet to begin.
Seating Plan
Below is a seating plan of Ajaccio's Stade François Coty: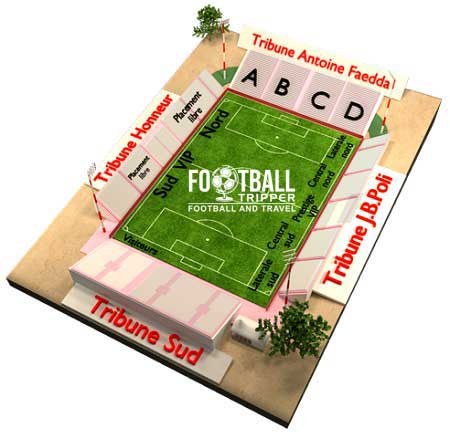 Stand Photos
Stade François Coty is comprised of four stands: North, East, South and West.
Click the thumbnails above to enlarge an image of each stand and to read a more detailed description of each part of the stadium.
Matchday Experience
Club Shop
Ajaccio appear to have a club shop at François Coty as well as an official online store which is linked to their website.
1. Stadium Boutique
Address: Stade François Coty, 20090, Ajaccio
Contact:  [email protected] or (+33) 4.95.20.80.53
Opening Times: Tuesday to Saturday 9.30 am-12.00 pm and 4.00 pm – 7.30 pm
Potential contact information?
You can also buy Ajaccio Merchandise online here.
Stadium Tours
Ajaccio's stadium holds only 12,000 people meaning that even if there was a stadium tour available, it wouldn't be worth it as there simply wouldn't be much to see!
The 1969 construction means the facilities are quiet outdated and it shouldn't be surprising that there isn't a stadium tour of François Coty available.
Ticket Information
Tickets to see AC Ajaccio can either be purchased online, at the club store at the stadium in the days leading up to the match.  On the day of the game itself, you can buy tickets on the gate up to two hours before kick-off as Ajaccio seldom sell out their small stadium, although you can't blame them as Corsica isn't the most inhabited island or place in France.
Ticket pricing starts at €10.00 for a spot behind the goal and end up being as little as €40.00 for a "premium" seat in the main stand, with prices increased whenever the big boys of French Football come to town under the  "Gala" pricing category.
Visiting the Stadium - Travel
Stadium Map
Driving
Driving around Corsica is relatively easy with the small island having a decent set of motorways which link the main cities together such as Ajaccio in the West and Bastia in the North.
The closest roads to the ground is N193 and N194 which encircle Parc Peraldi and the stadium, ensuring that you access AC Ajaccio's pitch no matter what direction you're coming from.
Address: 193 Route du Vazzio, 20090 Ajaccio
Airports and Flying
The city is served by Ajaccio Napoleon Bonaparte International Airport which is the headquarters of local flight carrier, Air Corsica. As the largest airport on the island, and the one with the most connections, it is well placed for tourists looking to visit from mainland Europe, with over 1,2 million passengers welcomed in 2012.
Once you have landed you can take the bus shuttle service sometimes labelled as Bus 8 to the city or look to rent a hire car.