Stadio Euganeo is a 1994 built football stadium located in and owned by the Municipality of Padua. Home to local side Calcio Padova the ground has a theoretical capacity of 32,420 but due to safety restrictions this is limited to 18,060.
Padova Stadium Guide
Stadium Facts
Overview
Team:
Padova
Opened:
1994
Capacity:
32,420
Address:
Padua
Stadio Euganeo History
The Euganeo stadium first opened in 1994 as a multi-purpose sports venue but is primarily used to host the football matches of Calcio Padova and occasionally other smaller teams. Treviso temporarily played their opening matches of the 2005/2006 season at Euganeo upon promotion to Serie A, and Cittadella have also played there between 2000-2002 during two consecutive seasons in Serie B.
The project to build a new stadium in Padua was launched in 1987 when Padova returned to Serie B, with the town wisely rejecting the design for 48,000 capacity stadium which would later go on to become the infamous Stadio delle Alpi in Turin. Two years later a scaled back design was approved and construction began on the project on the 2nd December 1989.
Taking a total of five years to officially open, the construction of Stadio Euganeo was wrought with diffiuclties with the City of Padova's Councillor for Sports, Sergio Verrecchia, convicted for accepting bribes. By the time Padova found themselves playing Parma in the 1994 season of Serie A, the work was still not completed and the Curva Sud was only to be finished during the 1999/2000 season when the club were languishing in Serie C2.
Occasionally the ground hosts International Rugby fixtures with the first game held on 8th November 2008 between Italy and Australia. With an estimated 30,000 fans in attendance it was one of the highest attended rugby matches in the country until Italy took on New Zealand at the San Siro a year later. There are plans to host more matches with the Italians set to take on South Africa in November 2014.
Seating Plan
Below is a seating plan for Stadio Euganeo: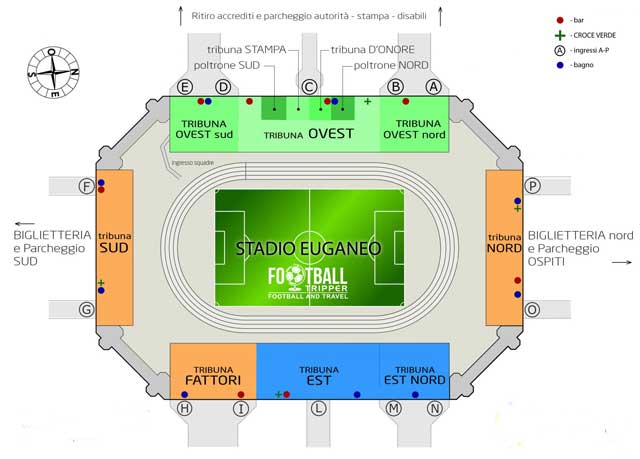 Location
Stadio Euganeo Seating Plan
How to get to Stadio Euganeo
Where is Stadio Euganeo?
Frequently Asked Questions
Who plays at Stadio Euganeo?
Italian side Padova play their home matches at Stadio Euganeo.
What is the capacity of Stadio Euganeo?
As of 2023 Stadio Euganeo has an official seating capacity of 32,420 for Football matches.
When was Stadio Euganeo opened?
Stadio Euganeo officially opened in 1994 and is home to Padova
Are there any Covid restrictions at the stadium?
Covid Restrictions may be in place when you visit Stadio Euganeo in 2023. Please visit the official website of Padova for full information on changes due to the Coronavirus.
Useful Links